SMILE #UWokeUp has had an exciting month of August, and we could not do any of it without you. Thank you for your continued love and support toward our mission to raise traumatic brain injury awareness.
Are you familiar with SMILE #UWokeUp? Check out OUR MISSION
SMILE #UWokeUp is a nonprofit organization designed to provide awareness of traumatic brain injuries (TBI) to our communities, while providing support, tools and tips and TBI prevention insight.
We offer a plethora of ways to provide support to traumatic brain injury survivors, family members, and other support systems. SMILE #UWokeUp hold community events to help to educate our communities about traumatic brain injuries (TBI), hopefully painting a vivid picture to others of what a TBI entails.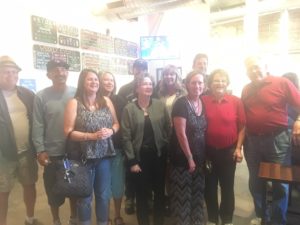 A BIG shout-out to Loveland Ale Works. As they helped to make it possible to raise more TBI awareness in our communities and for the opportunity to gain support towards our mission. With your generosity, SMILE #UWokeUp will be able to help their first traumatic brain injury survivor. Details to come soon. Thank you again to Loveland Ale Works for helping to make this possible.
Remember: Every 2nd and 4th Tuesday of the month. SMILE #UWokeUp offer support group meetings to traumatic brain injury survivors, family members, caregivers and other support systems. We support one another on their journey, providing the knowledge that we carry and overcome TBI's together as a team.
SMILE #UWokeUp has a special guest coming to one of our September meetings… We are excited to announce that Mark Rise will be speaking to SMILE #UWokeUp on September 26. Mark will take the floor from 7pm – 8pm at Poudre Valley Hospital, 9/26. Look for details in the blog titled "Mark Rise – Muscle Restoration Therapy,  the week of September 4..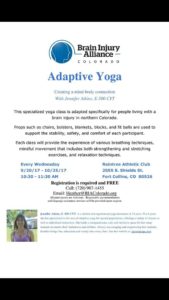 Brain Injury Alliance of Colorado is offering Adaptive Yoga. This will be held at Raintree Athletic Club in Fort Collins every Wednesday 9/20/2017 – 10/25/2017 from 10:30am – 11:30am. Make sure to give this a try if you are in the area. SMILE #UWokeUp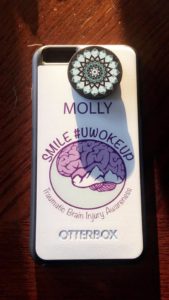 SMILE #UWokeUp has more exciting news for Northern Colorado. SMILE #UWokeUp has launched a new way to get an Otterbox phone case, helping to spread traumatic brain injury awareness and our message to others. If you're interested, there is an Otterbox store by Rio Grande in Old Town of Fort Collins. They can make a SMILE #UWokeUp case for you there. Details will be on our website as soon as a few finalizations have been made.