Thank you for wanting details of SMILE #UWokeUp TBI thriver newsletter. Your support is incredible and we could not continue our journey without the love and support from you and our communities.
SMILE #UWokeUp had their first guest speaker this month, Mark Rise Founder of Muscle Restoration Therapy. He educated SMILE #UWokeUp on different modalities that we can use to help us with our healing process. Click here to learn more about Mark and what he does that could possibly help you in your traumatic brain injury healing process.
October 7, SMILE #UWokeUp will be playing at Ninja Playground in Cheyenne. Ninja Playground was Founded by an American Ninja Warrior 2017 participant who is also a traumatic brain injury survivor. Cannon Meyer, the Founder, and Molly Cain have partnered together to show others that it is possible to overcome. October 7 from 4pm – 6pm they will be hosting a ninja day at the playground to educate, support, focusing on climbing our barriers. Visit our website or Facebook page to learn more.
WHERE: 605 South Greeley Highway Building 3 Unit B, 
Cheyenne, Wyoming
SMILE #UWokeUp is working on a Halloween opportunity for traumatic brain injury survivors who are in the hospital, if you know of any pumpkin patches that are local. Please pass this information along.
SMILE #UWokeUp is expanding and create more traumatic brain injury support groups and spreading more awareness of TBI's. We will be launching an opportunity to help other local traumatic brain injury survivors in our communities, so stay tuned for these detail and be sure to check our website and Facebook page for more information, too.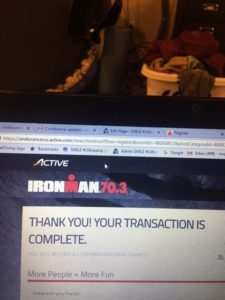 SMILE #UWokeUp Founder, Molly Cain, got a little antsy when the Ironman signup posted on September 20… Needless to say, Molly will be competing in 70.3 August 4, 2018. She is racing on behalf of SMILE #UWokeUp to show others that it is possible to overcome. What was once deemed as impossible, Molly is showing others is POSSIBLE.
The month of September flew by but we are really excited for the next few months ahead. If you have any questions or you want to be involved, please email Molly Cain at smileuwokeup@gmail.com.