Hi, TBI crew of survivors and supporters. We could not overcome without you, your support and helpful hints. SMILE #UWokeUp had a fun filled month of October. We were able to support our community members in a way by painting a more vivid picture of a TBI to others. We held a SMILE day at the gym in Cheyenne, at Ninja Playground. At our last Tuesday TBI support group meeting, we decided to decorate pumpkins as a group and give them to local community members at Parkview Estates, which is assisted living and a retirement home.
If you are in College and need an opportunity to earn community hours in your field, we are always looking for IT, marketing and design support. If you are just looking for an outlet to unleash your writing passion, look no further, SMILE #UWokeUp would love blogging assistance, too. Volunteer your time and learn more about traumatic brain injuries, while giving back to our communities bringing folks closer together to help paint a picture of this hidden disability.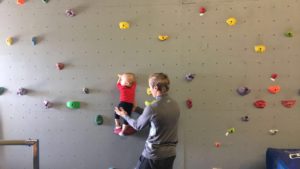 American Ninja Warrior, 2017 Cannon Meyer, Founder of Ninja Playground, partnered with SMILE #UWokeUp for a day at the gym. Cannon Meyer is also a traumatic brain injury survivor who set out on a mission. With the help of listening to podcasts and a lot of Tony Robbins, amongst many other professionals. He reached his goal and made it to American Ninja Warrior, during 2017. Spring of 2017 Cannon also opened his gym, Ninja Playground in Cheyenne, WY. SMILE #UWokeUp wanted to face the same challenges that Cannon faced as a TBI survivor but mostly we wanted to support him, letting him know that SMILE #UWokeUp is always here for him.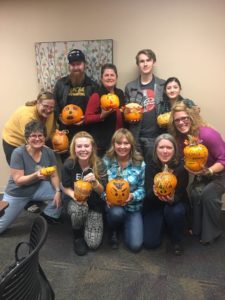 We want to thank Osborn Farms in Loveland for donating pumpkins to SMILE #UWokeUp Tuesday night support group for us to decorate and donate, last week. With the help of Osborn Farms and Blocky's pizza, SMILE #UWokeUp was able to have a Halloween event. Thank you again SMILE #UWokeUp crew for participating in this event. We could not do this without the love from the SMILE #UWokeUp group and also our community.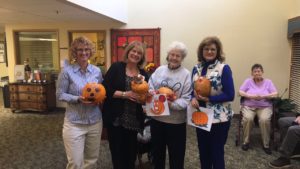 Parkwood Estates, were generous to let SMILE #UWokeUp donate our decorated pumpkins and colored pictures to brighten others residents day.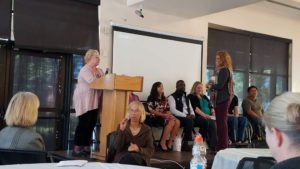 In October, Molly Cain was a guest speaker for a luncheon hosted by the Center for People With Disabilities. She was able to share her personal story with others, hoping to add a little life into their path; while addressing SMILE #UWokeUp and what we offer to our communities. The recording of this presentation will be on our website soon if you'd like to hear a little more of the personal story where SMILE #UWokeUp was sprouted from.
In November, SMILE #UWokeUp are holding a couple nights where a local restaurant donates a certain percentage back to the nonprofit. As their charity of choice. Please visit: www.facebook.com/smileuwokeup or www.smileuwokeup.org for more information regarding our festivities that are coming up in November.
A reminder, SMILE #UWokeUp Tuesday night meetings are cancelled the month of November. Enjoy your Thanksgiving and your families. We are going to still see each other just not in meeting form. If you are new and just browsing, SMILE #UWokeUp meet Bi-Weekly on Tuesday nights at PVH (Poudre Valley Hospital) and MCR (Medical Center of the Rockies). We are always at MCR (Medical Center of the Rockies) the second Tuesday of the month and we are always at PVH (Poudre Valley Hospital) in Loveland the fourth Tuesday of the month. Please reach out to Molly Cain with any questions: smileuwokeup@gmail.com
Any questions, please email Molly Cain at smileuwokeup@